Scott's Story
GONE BUT NOT FORGOTTEN ~Although Scott was physically weakened by terminal illness, he served the Lord with his whole heart; strengthened by Christ to trust Him each day. He lived and walked by faith, claiming God's promises; and God prolonged his life 16 years. As he endured the ravages of Lou Gehrig's disease, Scott's transparency was disarming—he served as a Godly example of perseverance in suffering. Scott redeemed his time by investing God's love in, and professing God's faithfulness to everyone he met. Pastor Scott's legacy is that he hoped until the end that he would see the goodness of the Lord in the land of the living. His faith pleased God and the Lord led him in "paths of righteousness for His name's sake". RIP~11/5/12
—————————————————————————————————————-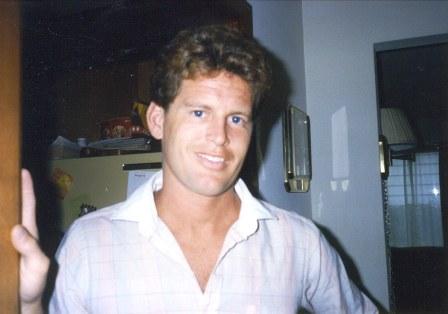 "Even though I walk through the valley of the shadow of death, I fear no evil, for You are with me; Your rod and Your staff, they comfort me." Ps 23:4
In 1983, my good friend Paul and I moved from San Diego, California to Tacoma, Washington to start a new Health Bar in a local gym.  This is where I met my future wife, Glennis. We were both in our early 20's and very physically active, we would frequently run and exercise together. We soon fell in love, and were married in 1984. Glennis already had a son and we were soon to have a daughter. By 1991, our family was complete with 4 very active kids. In 1986, we started a Mobile Upholstery Company, which we still own and operate today. We were both believers in Christ, Glennis making a profession of salvation in 1982, and myself in 1977 in my home state of Wisconsin.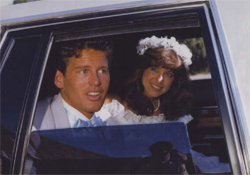 After attending a few different churches, we were led in 1988 to the one we still attend. We became very involved, participating and growing in our knowledge of Christ and a love of His Word and the lost. Life was in full swing with an active family, church and business. In late 1995, I noticed my index finger starting to twitch, and I couldn't write as well as I use to. I began to lose strength in my right arm and couldn't play sports as I knew I could. I attributed this weakness to needing more strength training, but by the summer of 1997 I could no longer ignore going to the doctor. After seeing my General Practitioner that summer, she said I could have anything ranging from a pinched nerve to Amyotrophic Lateral Sclerosis, and we would need to do further tests; I began to worry. My condition didn't improve, so I thought the worse. We researched what ALS is; a disease of progressive muscle wasting typically leading to a quick death in 2-5 years, with no cure and no hope. I buried this information away in my brain, until November 1997. This is when Glennis and I had our second meeting with a neurologist, who concluded after only 2 screening tests and a physical examination, that I had ALS. I refused to believe him, and would not listen when he said I was in denial. I knew God could heal me, but my faith would surely be tested.
As we left the office, a dark cloud hovered over our heads. I could envision Satan standing above me as I was clinging unto the sides of a dark pit. He was gleefully laughing at me in my despair saying to me in a mocking tone, "where is your God now Mr. Faith?" My wife and I wept and prayed together in the parking lot, and decided I should see our Pastor for prayer. He met with me and wept with me. Then gave me a verse, Rm 4:18 "Against all hope Abraham believed in hope" He then said he would have the whole church pray for me and my family that evening at church service. The congregation believed God for my healing that night and countless other times, but physical healing had yet to come, in fact I got worse. I saw several more neurologists who all confirmed the same diagnosis with the same clinical callousness. Leaving me hopeless and discouraging me from believing I would ever be healed. One of the neurologists said that people like me live in a fantasy-land to believe that the motor neurons that controlled my muscles could regenerate. I told him God could heal me and that I believed that I would raise my arms again, he mockingly told me that I could believe whatever I wanted. I left that appointment totally without hope for anything the neurologists could do for me. I continued to listen to messages on faith, encourage myself in Gods Word constantly. Because of the muscle wasting and the intense battle in my mind, projections of death and depression were always lingering, every time I looked into a mirror, more and more of my body would disappear.
In March 1998, while visiting Arizona, one night, Jesus appeared to me in a vision or dream, I could not tell. He told me that my healing had already begun and asked me three separate times where I would like to serve Him; hesitantly I said Phoenix, Arizona. This vision greatly encouraged me, and I set out immediately, in my own strength, to fulfill how I was to share the Gospel in Arizona with a healthy body. For the next 7 years I would seek out any alternative healing that was promising I could find. After all, God had assured me I would be healed and serving Him in Arizona. My wife and I spent thousands of dollars and traveled to Mexico 3 times, Canada, California, Nevada, and Arizona. We were determined that it was God's mind for me to get better and we weren't sure which method God would choose to bless, we prayed that God would go before us, give us wisdom and direction but my body continued to worsen. We were reminded that "the trying of our faith works patience" (Ja 1:3) "… and in tribulations there is a work of patience; and in patience there becomes experience; and through experience we have hope. and hope makes me not ashamed; because the love of God is shed abroad in our hearts by the Holy Spirit which is given unto us." Rom 5:3 -5 My faith grew stronger and stronger as I believed God to do the work.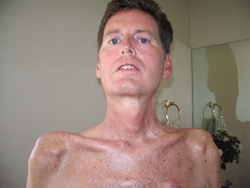 In 2005, my body became so weak, that I could barely eat food without choking, breathing was difficult, my speech became gargled, and my neck and arm muscles were basically gone. I looked  pathetic, and was down to 120lbs. I needed intervention or I would die. I continued to believe God would heal me, the only words I heard in my spirit were "choose life". After much prayer and soul searching, I decided to get a feeding tube, bi-pap machine, custom neck brace, and to use a wheelchair. My wife had already been urging me to go forward with these tools. God used these provisions to strengthen my body, and my weight climbed back up to 150lbs, and I got out of using the wheelchair.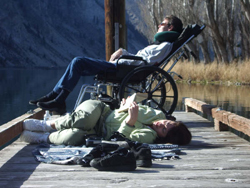 In 2006, God began taking me to deeper places of inner spiritual healing rather than physical. He revealed to me how selfish I was and how I could never fulfill his promise to me through my human effort. I gave up trying to sustain my own life and said to God that I was ready to die. He reminded me how valuable my life was, and if I would choose to live, he would use me to reach thousands and thousands of souls. He simply wanted me to trust in Him alone as the object of my faith… I had to learn that trust was the avenue God would use to reveal His love for me. My body was not my own, it was for the Lord's use and He has the ultimate responsibility to keep me alive. Healing has never been an issue with God, he has assured me numerous times that my healing has already begun and will physically manifest in His time, not mine, where He will get all the Glory. I no longer need to be occupied with healing; I need to be occupied with my Savior, the lover of my soul. The daily struggles remain, but as I grow in my love towards Christ, I rejoice that He allows me to go through them with Him.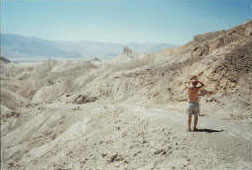 In 2007, God impressed upon my heart to start a web page to encourage anyone that maybe facing hardship, trials or a hopeless situation. DEATH VALLEY PROMISES* are assurances that God gives to anyone seeking him in the midst of adversity. They begin when we let go of our unforgiveness, sorrow or pain, and give them to God and allow Him to love us through our adversity. Letting go of our human understanding is not always so easy, in fact it's impossible without the Holy Spirit. When we chose to allow God to be in control of our lives, we are saying, "God you're the only answer I have, you're the only option I have, I give up!" He is always there for us, waiting for us to let go of our ways and give them to Him. When we surrender to Him, he does something wonderful; he floods us with waves of love. He reassures us that in His love we are secure and His promises are true. We exchange our damaged, battered and broken lives for His perfect plan for our life. Our attachment to the priorities and the things of this world dissipate as we get to know His great love toward us…this is where true healing begins. Your journey may take months or years, but once you find His peace in the valley, death no longer has power over you, and time no longer controls you. As you begin to experience the comfort of His love in your valley, you will find your healing and purpose. Others will see God at work in you, as you become conformed to His image and His plan begins to unfold. God will give anyone that is seeking, unique promises to encourage their faith and trust in Him.