In 2007,  Scott & I began our web-site entitled deathvalleypromises.org to encourage countless people in the hope and security of having a relationship with Christ. God made a way for Scott, who could barely  speak, to share His testimony and witness of Jesus Christ; right from our bedroom to around the world. Despite the terminal diagnosis, his cheerful heart became a medicine for him. He was compelled with mission for living as he dispensed this prescription through this work.
Typing with his foot, Scott painstakingly drafted his messages and I helped co-author and finesse his manuscripts. We uploaded both journal and devotional posts to this site. He wanted to share the ways God encouraged him daily and these efforts gave him meaning and purpose. While his body progressively weakened, Scott's ambition to share the Gospel was energized by renewal of his mind with God's Word and the Spirit's quickening. From his own desperation and dependence on his Savior, he wrote and encouraged many and bore fruit in suffering as he gained perspective on the value God had for his own life.
Without our own strategizing, we realized how God had led the way to enter into a promise given Scott months after the diagnosis. A personal promise for him to minister the Hope of Christ to thousands and thousands of people! The Holy Spirit had guided Scott's final years to leave a legacy that exalts Christ in the midst of adversity.
My husband, a great man of faith, believed God was looking to be glorified in desolate places. He ministered through the internet platform for several years and our website became a way for him to share God's love and keeping power with the world. Christ is The Message for multitudes without hope, His Comfort is refreshment for those in the barrenness of their life's situations. I pray the Holy Spirit will continue to use this website to encourage the faint-hearted.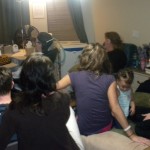 Posted in Journal, Scott making Entries | | 0 Comments | Comments Off on Work with what you have