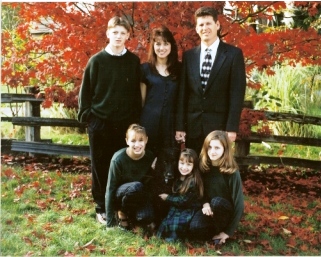 In recognition of the first anniversary of my husband's passing; I lay before you my heartfelt thoughts and admiration of the character of my better half, Scott Brodie, and the gracious God he served. The Lord has used the last year to comfort me in the finality of losing my spouse who now lives beyond the veil. Scott's gallant race to the finish in natural life has helped me to keep perspective on my grief. Feelings of having been denied have evolved to an ever increasing appreciation of the freedoms he must now enjoy in heaven.  
Initially, the overwhelming sense of loss was his physical presence, especially in view of the ways our lives were so interwoven. Life, as I formerly had known it, ceased to exist and my everyday reality was drastically changed. His absence affected every part of my being. Thirty years of inseparability didn't ensure me another day or retrieve Scott's soul back from the grave; I could do nothing but accept God's decided Will. I'm sobered considering the fleetingness of time and brevity of life. Surely we need to redeem each day for our generation while we still have breath.
I'm mindful of Scott throughout my day and dismiss feelings of leaving him behind. I resist hesitations of the "great unknown" in my future and wrestle with a slight sense that moving on betrays the plans Scott and I had made together. In the coming days, I have determined all the more to allow peace to rule my heart and protect and confirm my steps. The Comfort of God will give me assurance of His guiding hand.
I empathize with all who have lost a loved one, especially those who have experienced the death of a spouse. We grieve two losses; one of our soul mate and one of our marriages. The unwilling separation by death ends the godly union of marriage; divorcing lives from one another.  My precious husband was the center of my world in so many ways; it's foreign for me to live without his companionship. I am consoled with the thought that although Scott is no longer accessible in the land of the living he is partaking of an immortal, heavenly estate. Not a day goes by when I don't think of him, miss our conversations and accept his absence. The memory of him continually abides in my heart and mind. My consolation and firm belief is in my faith that the Word of God is true and I will one day see him again. I rejoice in the spiritual hope of the splendor of heaven; a Hope that will not disappoint.
Despite new and persistent battles we had faced in Scott's 16 year health crisis; I witnessed the Holy Spirit quicken his human spirit with renewed energy for each day's challenges. Throughout the difficulties, when his natural capacity was tapped, he kept himself from feelings of bitterness and pity. He determined not to try to figure out life by his own reasoning and decided against accusing thoughts, projections and condemnations competing to discourage him. When exhausted from the all-day struggle of mind and body; Scott clung to the promise of sleeping peacefully (Ps 4:8). Notwithstanding constant interruptions, he rested in God's faithfulness to equip him and looked forward to fresh mercies in the morning.
As the Lou Gehrig's disease progressed, the Holy Spirit developed Scott into a gentle soul. Without the use of his voice and with little ability to breathe, he still found ways to express love and concern for others. The demands of critical health became increasingly difficult both physically and emotionally. What Scott lacked in his own willpower he went to God for enablement. He resolved not to battle against his own limitations but trust in Christ's supply. Irrespective of Scott's physical dependence he grew in selflessness and patience. He daily bore a cross of suffering and vulnerability and defeated many enemies by the power of Christ Jesus. I imagine angels desired to observe this marvel of faith in action.
Years went by and Scott's nerve loss and muscle function continued to decline. This caused a type of progressive paralysis that robbed all aspects of his independence. In his great need, he came to a fuller recognition that God was searching his heart to apprehend his inner man (Prov 20:27). Scott's outward man didn't impress God anyway and often became an interference in the pursuit of Christ's call. By prayer for others and in identification with his Savior, Scott shared in sufferings that remain for the sake of the Church (Col 1:24) anticipating God's purposes would (and will) be revealed.
In the last years of his life, the intensive demands of physical care required concerted efforts day and night for me, our children, and the help of a few devoted caregivers. Scott had always wanted to give, and was greatly humbled to be the one constantly needing to receive. He appreciated all of our efforts and wished he wasn't a burden. We never considered him a burden and saw how much he gave. There was nothing I would not do for him and still cherished the man I committed my life to in sickness and in health. Even now, I highly esteem the godly leadership and precious contributions he demonstrated.
Despite the adversity, the Holy Spirit continued to enlarge both our capacities. Scott began to recognize his value in the plan of God and he grew in purpose.  I assisted behind the scenes to help him fulfill his ministry of encouragement. In no small measure, the impartation working in Scott was profoundly worked into my family and me. With the passing of their dad, our children face a distinct loss of their own yet have received a great heritage of faith in the Lord. I am confident our posterity will preserve Scott's legacy and the testimony of his utter dependence upon the provisions of God.
Scott had received newness of life, late in his teenage years, through the belief of the Savior's atoning sacrifice. Born to new life, his soul had been crucified with Christ in identification with the Son. Grasping the exchange of realities from natural to supernatural is paramount to rising above our challenges and overcoming evil. By of our invitation, God makes His home in us and we become the Temple of God. Our flesh no longer has jurisdiction to dominate us, God has legal reign! We choose to allow the Holy Spirit to take control of our lives and multiply the witness of Christ's love to the world.
 Battle of our Soul
Scott had always trusted and sought the Lord for a healing miracle. I believe Jesus was well pleased in his faith. If the Father's sovereign will was for his visible, miraculous healing in this life; He would not have been limited by doubt or unbelief in Scott's expectancy.  In fact, many miracles were carried out to deliver Scott from an earlier death. God prolonged his life eight times the prognosis neurologists gave him in 1997. I'm persuaded that Scott was entrusted with a specialized assignment; one that might cause many others to become offended and confused. The Father knew he could take this godly man through fires of affliction and he would come through as gold. Disease did not prevail against Scott by slowly taking his life but instead, by divine design, Scott amplified Jesus in the earth. God healed him entirely; giving him everlasting life and the promise of a resurrected body at Christ's Second Coming. Friends, the enemy has been defeated, no longer having dominion over a believer, we are to have already reckoned ourselves dead to our flesh. The battle that reconciled us to the Father has already been won and the grave has no victory. By the Blood of Jesus Christ, the Firstfruit of the Resurrection overcame death and the grave. Hallelujah!
By accepting Christ's substitutionary death, Scott had already been spiritually resurrected from sin & death at the point of his salvation. Beyond his natural ability, through prayer and seeking God, he accessed the joy of the Lord for his inner strength. Scott's spirit, soul and body had to align with the Will of God for his life and be daily sustained by His Grace. Scott sincerely wanted to be able to stand before his Maker with a pure heart and no regrets. He yearned to hear the Father say "well done, thou faithful servant".
There is something for us to examine in one's knowing their impending death that shakes them out of the slumber of the world. Even as a devote follower of Christ, upon hearing of his terminal prognosis, Scott desperately aspired to please God, no matter the cost. We should all be so alert knowing our days are short. I remember those early years and know our journey took us through a perilous and desolate wilderness of heart. Time and again, we were supernaturally equipped for our challenges by His mercy and grace. God's Word tells us He does not refuse a broken and contrite heart and hears their plea (Ps 34:18).  In turn, we have opportunity to delight the Father's heart by our acknowledgment and praise of His work in our lives. Scott had a lot of time to contemplate the Life of Christ that enabled him. He would want you to fight the fight of faith with everything within you, believing God for His Promises.
 "The secret of the Lord is with those who fear Him, and He will show them His covenant" Psalm 25:14
 An example of faith
 The Apostle Paul wittingly boasted in his infirmities to the Corinthian believers seeing they boasted in their flesh. (2 Cor 11:18, 30). Later the Lord told him "… my grace is sufficient for you, for My strength is made perfect in weakness" therefore Paul was able to state "… I take pleasure in infirmities, in reproaches, in needs, in persecutions, in distresses, for Christ's sake. For when I am weak, then I am strong" (chap.12:9-10). We see in Paul's example, although he was commissioned by God, he suffered many adversities. Consider the follow passage:
 "We are hard-pressed on every side, yet not crushed; we are perplexed, but not in despair;  persecuted, but not forsaken; struck down, but not destroyed—  always carrying about in the body the dying of the Lord Jesus, that the life of Jesus also may be manifested in our body. For we who live are always delivered to death for Jesus' sake, that the life of Jesus also may be manifested in our mortal flesh. So then death is working in us, but life in you.
…Therefore we do not lose heart. Even though our outward man is perishing, yet the inward man is being renewed day by day. For our light affliction, which is but for a moment, is working for us a far more exceeding and eternal weight of glory, while we do not look at the things which are seen, but at the things which are not seen. For the things which are seen are temporary, but the things which are not seen are eternal".                                                                                       2 Cor 4:8-12; 16-18
 My boast
In our private lives, I was a recipient and eyewitness to a particular outworking of inner strength and ability. By observing Scott's personal fortitude and abundant life, my perception of reality has been altered in ways I cannot deny. I have come out from a wilderness leaning on my beloved Christ. I am passionately assured of God's faithfulness regardless of how circumstances appear, and boast of the Lord's delivering power through the Cross of Christ. Jesus will do more than you could ask or imagine when you commit your whole heart to Him. Believe for yourself, fellow traveler, God is the source of all life and an ever present help in the time of your need.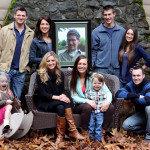 Posted in Audio,Video & Photos, Devotionals, Journal | | 0 Comments | Comments Off on Praise from a Christian Widow