Thursday, June 3, 2010
Charlie Wedemeyer dies
Charlie Wedemeyer, one of Hawaii's most storied high school athletes who earned his greatest accolades for his dogged fight against Lou Gehrig's Disease, died this morning in California. He was 64. Wedemeyer had undergone two major surgeries in recent weeks.
His inspirational life story has been well chronicled, resulting in a PBS documentary, "One More Season," a CBS movie, "Quiet Victory — The Charlie Wedemeyer Story" and a book he and his wife Lucy wrote, "Charlie's Victory."
In 1960, Wedemeyer was voted the Prep Athlete of the Decade. Last year, he was named one of the Hawai'i's top 50 sportspersons in the 50 years of statehood.
Wedemeyer, a multi-sport athlete at Punahou School, was diagnosed 33 years ago with amyotrophic lateral sclerosis, the degenerative nerve condition that killed baseball's "Ironman" at age 37 on June 2, 1941. ALS is usually fatal within three years of diagnosis and only 10 percent of those afflicted live beyond eight years.
Despite Charlie's illness, the Wedemeyers would make speaking engagements, with Lucy delivering his message by reading his lips and his eye movements.
In 1999, he visited O'ahu Community Correctional Center and quipped, "In a sense, I also have a life sentence."
In 2005, the Wedemeyers made speaking engagements at Central Union Church and the Hawai'i High School Athletic Association Hall of Honor dinner.
In recent years, Charlie's kidney failed and last March, he was hospitalized and underwent three surgeries.
Through it all, the family remained incredibly upbeat.
"God is so good. We have been blessed," Lucy said last year.
Charlie and Lucy Dangler were high school sweethearts at Punahou, where Charlie played quarterback and halfback and was a three-time all-star in the Interscholastic League of Honolulu.
In 1964, he was named ILH Player of the Year, and played in a playoff game against Kamehameha that was televised throughout the state.
At Michigan State, Charlie was a receiver for the No. 2-ranked 1966 team that played No. 1 Notre Dame to a 10-10 tie in college football's famed "Game of the Century." It also was the first game televised live to Hawai'i.
After getting married and graduating, the Wedemeyers settled in Los Gatos, a small town about 15 miles southeast of San Jose. They had two children, Carri and Kale, and Charlie began a successful career as a math teacher and football coach at Los Gatos High.
Then in 1976, he started dropping the chalk when writing math problems on the chalkboard in class. After similar difficulties with his hands, he went to see a doctor, and eventually he was diagnosed with ALS.
Lou Gehrig's Disease is an incurable neurodegenerative disorder that attacks nerve cells and pathways in the brain and spinal cord. The result is a loss of muscle control and movement.
ALS, which affects one out of every 50,000 people, accelerates quickly and many patients totally succumb within two or three years of diagnosis.
In Charlie's case, he was given one year to live.
But the Wedemeyers did not focus on what was taken away.
"In the beginning we didn't see anything positive about it, but then we renewed our faith in God and realized we are a tool that can be used to help other people," Lucy said in a 2005 interview with Advertiser sports writer Wes Nakama. "I think Charlie realized what an awesome responsibility he had been given, that there is a plan and purpose for everything."
In the early years of his illness, Wedemeyer prayed that he could get to see his two children grow up to graduate from high school and then college. They did.
Carri runs the website for the Charlie Wedemeyer Family Outreach program, which raises money for ALS research, while Kale is a doctor in private practice.
"God is so good. We have been blessed. Our two children are both happily married and live close to each other, and 4.2 minutes from us, but who's counting?" Lucy told Advertiser writer Bill Kwon last year. "We are thrilled to be grandparents. I think it is our greatest accomplishment."
One of the most versatile athletes locally, Wedemeyer, who was 5 feet 7 and weighed 164 pounds, earned nine varsity letters in high school. He was a first-team all-star with teammate Norm Chow when Punahou won the ILH basketball title in 1964, and played second base on the school's 1965 ILH championship baseball team.
Wedemeyer played in the East-West Shrine Game at Candlestick Park in San Francisco, and then came back home to play in the 1969 Hula Bowl. He played two years of semi-pro football for the Lansing (Mich.) All-Stars.
Charlie's greatest accomplishment, though, came as football coach at Los Gatos High School, winning seven league championships and posting a 78-18-1 record — after he was afflicted with ALS. In 1985, his team won the Central Coast Section Championship with Lucy, on the sidelines again, reading his lips and relaying his plays to assistant coaches.
"I think it's important to remember that we will all be confronted with adversity that may seem insurmountable," Charlie said in 2005. "When it does happen, we have to remember that God has given us the freedom of choice: We can choose to feel sorry for ourselves, be bitter and angry, and cause everybody to be miserable. Or we can become a stronger and better person for it.
"Pain and suffering are inevitable — we all experience it. But misery is an option.
"We do get to make that choice."
REBECCA BREYER | The Honolulu Advertiser  | June 4, 2010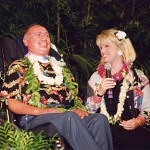 Charlie Wedemeyer:
February 19, 1946 – June 3, 2010
Charlie Wedemeyer Family Outreach http://www.cwfo.org/
This entry was posted on Friday, June 4th, 2010 at 6:54 pm and is filed under News & Articles. You can follow any responses to this entry through the RSS 2.0 feed. Both comments and pings are currently closed.